This post may contain affiliate links. When you purchase through the affiliate links, we earn a small commission at no extra cost to you.
An electric smoker, such as a Pit Boss, is an excellent approach to smoking meat and other cuisine.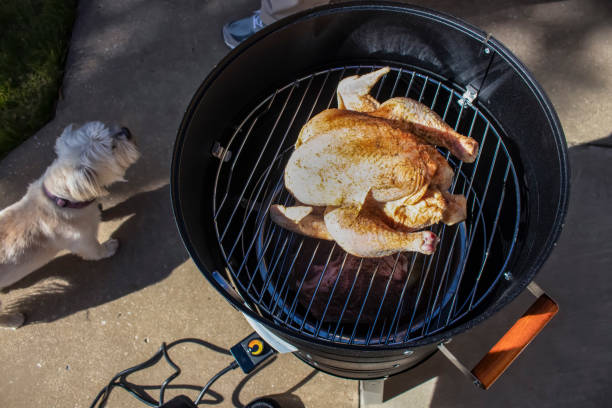 It is simple to operate and provides delicious results. Here are some pointers and guides on how to use a pit boss electric smoker.
How to set up your Pit Boss electric smoker
The first thing you will want to do is unfold the smoker and attach the legs. You can then place it in your desired location. Once you have done that, you will need to plug it into an outlet and turn on the power switch.
The smoker has a digital temperature controller which will help you maintain a consistent smoking temperature.
The next step is to fill the water pan with water and add wood chips to the chip box. You should never fill the water pan higher than halfway full or else the smoker may not function properly.
Make sure the heat and smoke are contained within the Pit-Boss electric smoker before grilling your dinner.
Now that your smoker is ready, it is time to add your food. You can either place the food directly on the grates or use a smoker box.
The Pit-Boss electric smoker has a spacious cooking area that allows you to smoke large quantities of food at once.
The smoker is equipped with an automatic shut-off feature, so you don't have to worry about overcooking your food.
Once your food is cooked to perfection, simply unplug the smoker and allow it to cool down before folding it up and storing it away.
Different types of wood chips that can be used with the smoker
Different types of wood chips can be used with the smoker, each imparting a different flavor to the meat. Different types of wood can be used, from fruity ones like apple or cherry to hard ones like hickory or mesquite.
The type of wood you use will depend on the type of meat you are smoking, as well as your personal preferences. Different kinds of wood will give the meat a different flavor, so experiment to find the combination that you like best.
In general, harder wood like hickory or mesquite will give the meat a stronger flavor, while softer wood like apple or cherry will impart a sweeter flavor. However, the best way to figure out what tastes best is to experiment with different types of wood chips until you find the perfect combination.
How to smoke meat, poultry, and fish in a Pit Boss electric smoker
Make sure that your smoker is properly assembled. Fill the water pan with water and place it in the smoker. Then, place the wood chips in the wood chip box and put them on the grate.
Finally, place the food you want to smoke on the grate and close the lid.
Now, let's look at how to set up your Pit Boss electric smoker for various cuisine types. For smoked chicken, we will use the following settings:
Temperature: 160°F to 180 °F
Time: Approximately 3 to 3.5 hours
For smoked pork butt, we will use the following settings:
Temperature: 195-201 degrees °F
Time: 15-20 hours
For smoked salmon, we will use the following settings:
Temperature and Time: 140°F to 150°F for the first hour, then finish at 175°F for another hour or two
Smoking tips for beginners
If you're new to smoking, or just want to brush up on your skills, using an electric smoker is a great way to get started.
Electric smokers are easy to use and come with a variety of features that make smoking meat simple and straightforward.
To begin, insert your smoker and set the temperature to 225 degrees Fahrenheit. Add your favorite wood chips (we recommend hickory or cherry) to the chip box after the smoker has reached temperature.
Place your meat on the cooking grates and close the lid. The Pit Boss will do all the work for you – all you need to do is relax and wait for your delicious smoked meat masterpiece.
In general, smoking meat takes anywhere from four to six hours. However, it's important to keep an eye on the smoker and make sure the temperature doesn't get too high or too low.
If the temperature gets too high, you can open the lid of the smoker to let some heat escape; if it gets too low, you can add more wood chips to the chip box.
Conclusion
If you are looking for a great way to get started smoking food, the pit-boss electric smoker is a great option. It is easy to use and produces delicious results.
You need to keep in mind that electric smokers do not deliver the same amount of flavor or variety as gas-fueled smokers.
Keep this in mind when you're planning your meals. Check out our electric smoker guide for more ideas on how to make the most of your grill.
FAQs
Q: How do I know when my food is done smoking?
A: The best way to tell if your food is done smoking is to use a meat thermometer. Make sure the meat thermometer is inserted into the thickest part of the meat and that it reads 165 degrees or higher.
Q: What kind of wood should I use in my smoker?
A: You can use any type of wood you like in your smoker, but it's best to stick with one type of wood for each smoking session. This will help to create a more consistent flavor.
Q: How do I clean my smoker?
A: Cleaning your smoker is easy – just remove the cooking grate and water pan, and use a brush to clean out the interior of the smoker. Be sure to allow the smoker to cool completely before cleaning it.